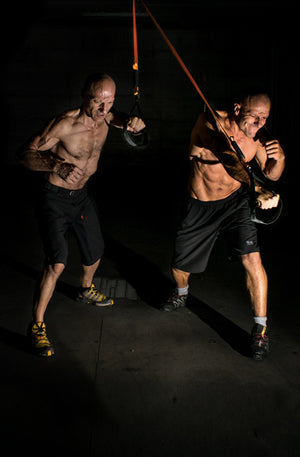 founders and creators: andrea & luca mainini
GRAVITY FORCE TRAINING SYSTEMS is a disruptive and innovative Italian company that produces the widest range of functional suspension training tools for action sports and fitness, and FITSWORD, a new tool and discipline that brings the essence of combat sports (the art of fighting with swords and sticks) into the fitness world.
We are Andrea and Luca Mainini, brothers, multi-sport athletes and founders of G-Force Training Systems.
We practiced all kind of action sports since a very early age (gymnastic, climbing, breaking, skydive, all water and mountain sports). The opportunity to practice many disciplines gave us a wide knowledge in all training aspects, and the ability to maintain peak performances for all those years.
We used this knowledge and experience to develop all G-FORCE and FITSWORD Products (first and foremost for us), as we wanted training tools that were PORTABLE (to use at home, at the gym, when traveling), physically CHALLENGING (to workout with heavy resistance), with a GREAT VARIETY of exercises (to fight  adaptation and boredom), FUNCTIONAL AND VERY SPECIFIC to all our sport needs (for strength, endurance, explosive, acrobatic movements), EXPANDABLE (if you are like us, you want to train for all your sports), FUN AND INSPIRING (as it's hard to have "long term discipline and constancy").
Whether you are a calisthenic athlete, a breaker, a fighter, a climber, a surfer, a fitness enthusiast, a trainer... or a multi-sport athlete like us, all our products are for you, to help you improve and become a better functioning human being.
Andrea MAININI (born in 1967) is an engineer with long experience in design and game development, former official of the Alpine troops, competed in international climbing contests. He opened new climbing routes, and has a vast experience in all the mountain domains: skiing, biathlon, mountain bike, endurance mountain races, paragliding and hang-gliding.
Luca MAININI (born in 1973), graduated in Economics with extensive experience in the fashion industry, former Paratrooper officer, competed in international inline skate competitions. He's a kitesurf instructor, and has traveled around the world surfing and windsurfing. He's also a skydiver, a snowboarder and a skier.
We founded GRAVITY FORCE TRAINING Company in 2016, thanks to a successful crowdfunding campaign on INDIEGOGO. Since then we kept on improving, designing and creating new training tools. In our spare time, we keep on training and learning new sports.

Our MISSION is to provide you the finest training tools for your sport. Each product is the result of a long process of study, experimentation, testing and prototyping. We work hard and long to add as much value as possible on each product, in terms of functionality, uniqueness, versatility, and construction quality:
FUNCTIONALITY
We strongly believe that the training system must be functional, allowing the execution of specific movement patterns that are similar to the sport, by improving the way muscles work with each other. This belief is at the base of every tool we created. 
VERSATILITY
Each of our products has been conceived to perform the widest range of exercises, for many sport applications. We added as much value as possible on each product.
UNIQUENESS
Only with our products you can train in such a specific and effective way for your sport. You won't find something similar on the market.
QUALITY
The Design is the result of a long process of refinements and improvements (not only aesthetic, but functionality). MADE IN ITALY, using the finest materials, with high-end production processes.