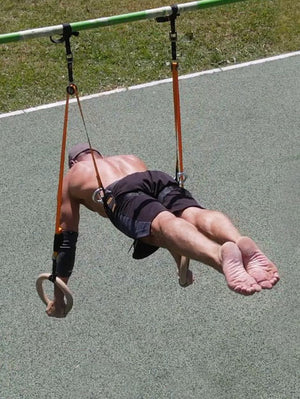 the original RDM since 2017
EXCLUSIVE FEATURES:
We developed the most innovative RINGS DREAM MACHINE (with different levels of support - beginner to pro) to approach and train every CALISTHENICS and GYMNASTICS strength exercise.
8 TRAINING SETUP
You can setup the RINGS DREAM MACHINE in 8 different ways, depending on your current state of form and on the skills you want to master. It is perfect for every fitness levels (beginner to pro).
- Used by beginners, as a safe mean to learn bodyweight skills and improve strength.
- Used by advanced athletes (like pro-gymnasts), to master the most difficult skills, reducing the risk of injuries.
It's also great to warm-up before practicing hard skills with your bodyweight, and it's commonly used to rehab and get back in shape after a gymnastic injury.
MOTIVATIONAL TOOL
It keeps you motivated, as you can train and get the "rings skills" feeling since the beginning of the practice (avoiding the frustration you usually get from the training of near impossible moves, when you still don't have the necessary strength, coordination, flexibility, technique skills, or experience).
COMFORT & QUALITY
We improved our HARNESS to offer you the best training experience
- HARNESS SIZE: it is adjustable for users with a waist ranging from 75 cm to 110 cm (29,5" to 43,3" inches).
- Unlike similar harness that are narrow, unstructed and uncomfortable, our Harness is wider and extra padded, build in collaboration with a climbing company, for maximum comfort, support and safety when training;
- Metal Safe & Quick release to get in and out of the Harness with ease.
Birch wood rings (Diameter 23cm, Width 32mm), with a textured, grip-friendly surface that works with or without chalk, have a distinct natural feel preferred by many athletes.
MAXIMUM SMOOTHNESS
The STRAP allows a much more fluid, natural and smooth movement over the pulley than that of a rope. Especially a thick rope deforms (with greater friction) over the pulley, making the movement not smooth and natural at all.
★★★★★

I have been using this machine for almost a year. I learnt a lot and my body adapted pretty fast to basic gymnastic drills. There is an endless amount of drill work to be done. and the exercises book is super useful. I absolutely love mine! 
★★★★★

The Ring Dream Machine is a game changer. It allows for working on ring skills with perfect movement mechanics by taking 50% off your weight off. And unlike bands, the amount of assist is consistent through the movement. Not to mention the quality! GREAT
★★★★★

Amazing training tool for calisthenics. The setup is fast and super easy. I use it at home, anchored to the ceiling.. and I love it. 
★★★★★

I find it inspiring and confidence building. Very smart training tool with 8 setups... never get bored.
★★★★★

Love the quality and comfort of your product. I use it mainly indoor, and is perfect for setup 2 as the ceiling in my place is not that high.

I've been using the similar one from another brand but it is not suitable for indoors since the wires are not adjustable and the weights keep hitting the ground.
★★★★★

I wish I started younger with calisthenics.. but this machine let people like me have fun and make possible, exercises impossible to do without a gymnastic background
★★★★★

I do climbing and calisthenics... and I recognize a good harness from a bad one. This is extremely well made, very comfortable with a beautiful design. The same applies to the metalware... just professional gear... not the cheap hardware I have seen on similar articles. Don't hesitate to get it. Great improvements in both cali and climbing since I started using it
★★★★★

I have the dream machine from another brand, but it has no capability to be used other than as a dream machine.

Your design is so ingenious. I also love the idea of using straps instead of ropes, and using it to assist ring training.
★★★★★

I'm loving my Dream machine! It is really smooth. I never thought there would be such a difference between rope vs straps.