Get fit for your next ride
sup, rowing, windsurf, kite, bike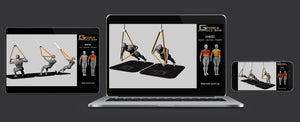 PDF FOR YOUR COMPUTER, TABLET, PHONE
Paddle Training System: Train paddling and rowing movements, even when you are far from the water;
For windsurfers, kiter, bikers and hang-gliders: train with functional patterns similar to your sport by improving the way muscles work with each other;
Improve stamina and strength, get fit for the next ride.
S.A.I.D Principle (Specific Adaptation to Imposed Demands): adaptations and improvements are most significant when training is similar to the activity you perform.
Using G-Force with HANDLEBAR, you train with exercises involving the same muscles and movements of your sport (the pulley lets you move in a multi-planar space, as with the natural functional movements).
★★★★★

Yesterday I worked with 4 of my top athletes for 5 hours. Not only were we well challenged, but the Handlebar was very popular with the kite-boarders, bikers etc. Of course we did not cover all your exercises (need more bars) but everyone enjoyed the new challenges!
★★★★★

As 1 client said to me - "it has taken me 3 years training with you 2X week to learn suspension training! Now you are challenging me with all these new modes (pulley, double pulley, Handlebar, One on One!!!" This is a great compliment! Thank you Andrea & Luca for helping me to expand my workout programs.
★★★★★

Today my friend Mikkel came to the gym where I train and we worked G-Force in all modes + the Handlebar..... had a great time. We are both very impressed with the rigs, the quality & the thought that went into engineering them. 
★★★★★

Thank you guys for such a great tool! I love windsurfing and mountain bike. This is the first time that I'm going to be really ready for the season. I feel strong like a rock!
DYNAMIC HANDLEBAR TRAINING
Improve pull and rowing movements with Elastic Resistance. The combination of G-Force HANDLEBAR with the POWER BANDS allows to mimic and recreate all rowing and pulling movements with an incredible smoothness and authenticity (perfect for SUP, kayak, windsurf and kite training). 
- Typical human movement, particularly in athletic performance, is characterized by sudden acceleration and deceleration. The combination of the elastic band with G-Force's Pulley, allows to train speed and agility drills, to make you faster and stronger;
- You have to control both the tension and the release of the band: this recruit your stabilizing muscles and build core strength, as it takes a good amount of concentration (make sure to maintain tension on the band);
- The pull of the bands reduces your ability to cheat by using momentum.